BCF Website Content Pages - 2012
Boating, Camping, Fishing is "big box" leisure retail company in many locations in Australia. Their E-Commerce website contained almost all products available in-store, promotional material, as well as practical tips and useful information for boaties, campers, and anglers. As part of my role at Super Retail Group, looking after content on the BCF website was one of my jobs.
Fishing Reports
I was given this project during my first month at SRG, and although delivering it shortly after, I came back to it again and again incorporating new ideas from the client. The essentials were similar right the way through. They were to provide a section of the website where users could read fishing reports divided by regions of Australia. The content manager needed an easy way to update reports as needed. Finally, the reports needed to be presented in a simple, clear way that also reflected BCF's brand identity.
With only a simple state selector I decided to jazz up the landing page: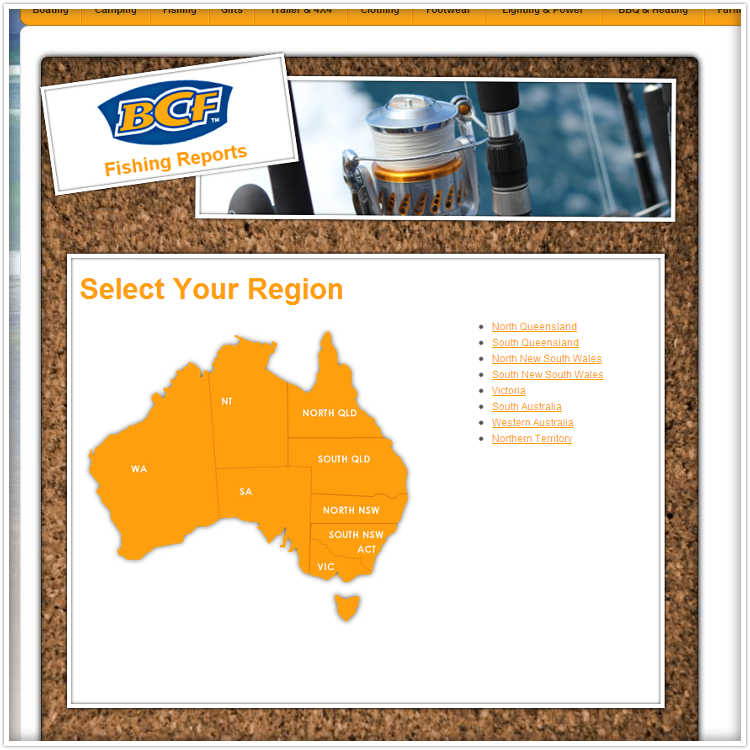 BCF's Fishing Reports landing page. I took my own photo for the background, drew a new Australia map, and used the extensive company image library for the hero image.
This style was used for approximately a year before another redesign (it has come a long way and looks fantastic now, credit to the fantastic artists in the marketing team).
Species Guides
This was one of my later projects at SRG. In order to increase the site's SEO profile and make use of the multitudes of information created by the brand team I set out to format all the species guides from images and PDFs to HTML documents. This included using a new clean design template, and also linking to the pdf document for downloading. In consultation with the content producers, I spearheaded a move to producing HTML content pages rather than relying on uploaded images and PDFs. This assisted the website's SEO.
One such page using my new design is shown below: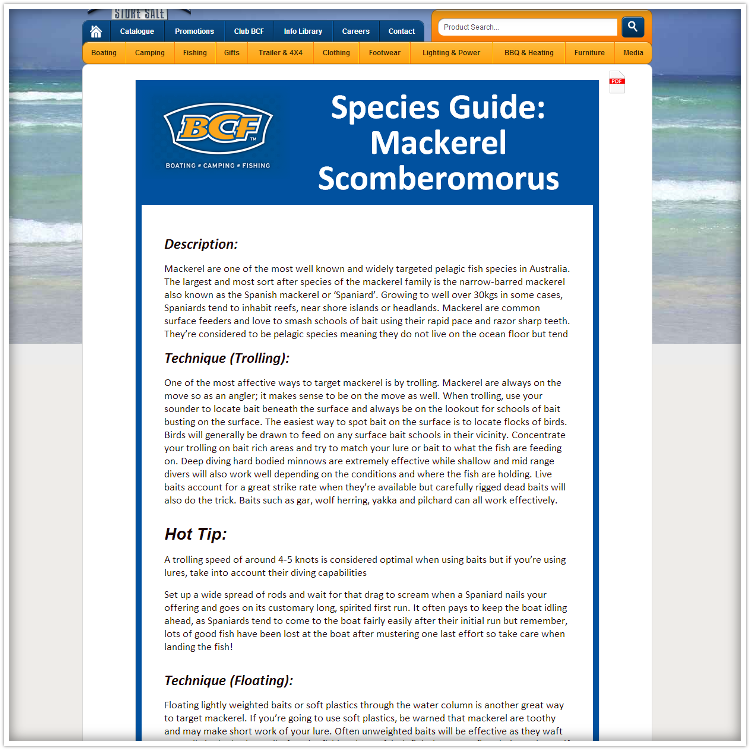 The new layout was meant to look like a 1-page brochure, with big easy to read text and (where provided) nice imagery to complement it. Behind the scenes the pages were geared toward SEO with use of h1 and h2 tags as well as good image naming conventions and the use of alt tags.
This style was also used for approximately a year and has been redesigned. Fortunately, the company continues to produce HTML content articles!
Site Address: